A National Champion walks among us!!

A somewhat shy, unassuming young man steps onto the lane.
With a relaxed attitude and a friendly demeanor, he takes his place at the approach.
With a form and style that shows the results of years training diligently at his sport, he nonchalantly throws a beautiful ball that arcs perfectly into the pocket and shatters the rack, sending all ten pins running to the pit for mercy. The young man doesn't celebrate or boast, he just politely takes his place and waits for his next chance to throw a strike. And, he throws a LOT of them.

On July 14, 2011 in Las Vegas Nevada, this young man showed incredible talent, poise and maturity as he devastated the competition at the USBC Junior Gold Championships. He climbed through the pack of fellow competitors from all over the country.
After six games he was ranked 65 out of 1069 bowlers.
But, hang on, this is going to be a VERY quick ride.
After 12 games, he was ranked 34th.
After the next six games he was ranked in 7th position.
Are you starting to see a pattern?
After 24 games of bowling, halfway through the semi-finals, he took the first position in the qualifying field. And for his competition, it only got worse from here. At the end of the semi finals, after 30 games of competition he had fought his way to a commanding lead over the rest of the field.

He was two hundred twenty pins ahead of his closest competitor at the beginning of the finals. Over 30 games he averaged 225.10. It was always a race for second.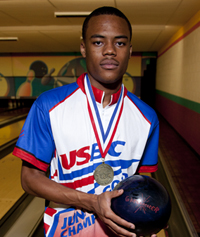 Gary Faulkner 20, of Memphis had this National Championship in his pocket.
And when it was over, Gary was indeed the USBC Junior Gold National Champion
and a new member of the USBC Junior Team USA.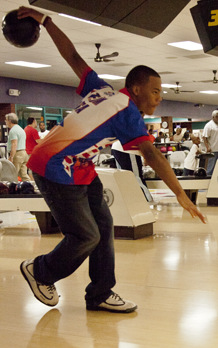 Gary has been bowling since the age of two and since the age of seven he has been Coached by Sheryl Hayes, a USBC Coach and Director for the Memphis Area USBC. Gary bowls at Winchester Bowl, where they gave him a celebration party and hung a banner in his honor.

Gary attends Webber International University in Florida where he majors in Computer Information Systems. Thanks to his win in Las Vegas, he now has as a substantial addition of scholarship money to further his education.

Congratulations to Gary! Who knows, we may see him next on ESPN's PBA Tour or developing the next new wave in computer information technology.
Whatever he does, we know he will do it well.

WAY TO GO GARY!!
PLEASE SUPPORT YOUTH BOWLING